This is England '90 – "Spring" Episode One
by
sophievllewellyn
"Erect yourselves" – Shane Meadows award winning drama returns for it's final series set 7 years after our first encounter with the group of disaffected youths. The former 'skinheads' wave goodbye to Maggie and give a warm hello to tie dye, bucket hats and acid house.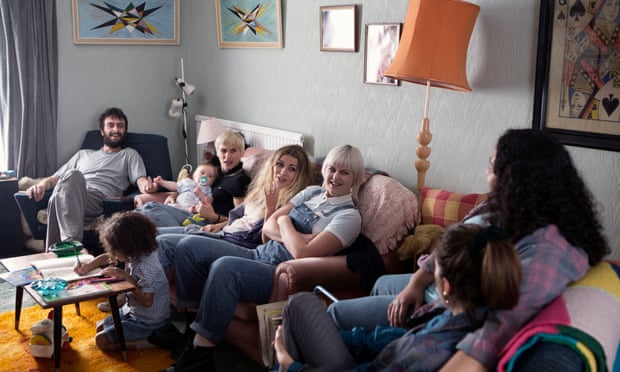 Episode one "Spring" (the series is split into 4 episodes, each one set in a different season) sees things looking up for the whole gang. Lol and Woody who were last seen sobbing in a chapel hospital are playing happy families, Michael Socha playing the cheeky chap drug dealer Harvey is hilariously blunt who tells a group of goths "to drink some blood", Gadget hasn't lost any of his charm, Kelly and Trev are still best mates and seemed to have put their past haunted by Kelly's dad Mick behind them. It seems the only person who isn't part of the happy club is poor Shaun. Shaun was last seen hopelessly wallowing over his break up from Michelle "Smell" in This is England '88 and two years later he is still desperately trying to hide his sadness but seriously failing. Shaun played by Thomas Turgoose was the winner for me in this episode, his performance was compelling, his pain appeared so raw and so very real. Part of me just wanted to slide into the TV and tell him it's not.
This episode starts the same way as This is England '86, with a positive, comedic vibe taking president. However it all feels very ironic, especially when Milky states "Don't worry, good times will come again", a tongue in cheek comment when the lads find out there are no chips left over from the local primary school where Lol works. I felt a slight sadness, as I know that if this series is to go by the previous, this positive, happy, euphoric time will not last.
Complimented with a trailer for the episodes to come, I personally cannot wait for the return of Stephen Graham's character "Combo" who was last seen taking the wrap for Lol who emotionally bludgeoned her rapist father to death with a hammer.
The direction from Meadows is perfection and his ability to capture life in the '90's for the working class is second to none. Beautifully soundtracked with "Madchester" inspired music pulsating in the background and a haze of cigarettes, alcohol, glow sticks and bongs, I cannot wait for next Sunday already and it has totally reincarnated my love for Stone Roses and Happy Monday's.